Greek Restaurant St. Louis County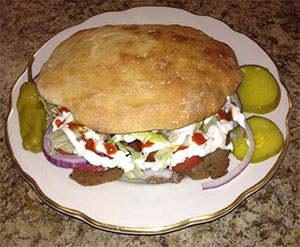 Craving a quick vacation? Take your appetite on a trip to Troy Mediterranean Cuisine, where you will find all of your favorite Mediterranean dishes cooked to perfection. We've been serving our customers Mediterranean food in St. Louis County, MO since 2014, and we look forward to serving you soon!
Mediterranean Restaurant
If you love gyros, sarma, kabobs and baklava, but haven't been able to find quality Mediterranean food in St. Louis County, MO, you're in luck, because Troy Mediterranean Cuisine takes familiar flavors to the next level of taste. We opened our doors in 2014, but our owner and head chef has over 15 years of experience in the restaurant business, and it shows in the distinct flavors and perfectly cooked food we consistently provide for our customers. Our restaurant is also family-owned and operated, and we take pride in serving other families and individuals who share our passion for cooking and food.
From traditional tastes and fresh salads to our mouth-watering sandwiches, we have a great deal of tasty dishes that anyone will enjoy. On your first visit, make sure to try the tender lamb and
chicken dishes that we've quickly become famous for. We offer discount pricing for large orders, and we have dine-in, carryout and catering services available. We're proud to bring quality food and authentic flavors to the area, and we can't wait to welcome you to our Mediterranean restaurant in St. Louis County, MO. Here are just a few reasons why you should place a carryout order or come by and dine with us today:
We are a proud family-owned and operated business in St. Louis County, MO.
Our owner and head chef has over 15 years of experience cooking in Mediterranean restaurants.
We use only the finest products and authentic spices to give you the best meal possible.
Our menu offers a wide range of Mediterranean options, from salads to baklava.
Our employees are friendly and hardworking.
Stop by today for: Mediterranean cuisine. Turkish food. Some Georgia and Greek dishes. Salads, soups, kebabs (chicken, beef, etc.), gyros, sandwiches, pilav, sarma, khinkali, manti, borek, etc. Beverages (Turkish coffee, tea, Pepsi products) and desserts (cake and baklava) and much more!